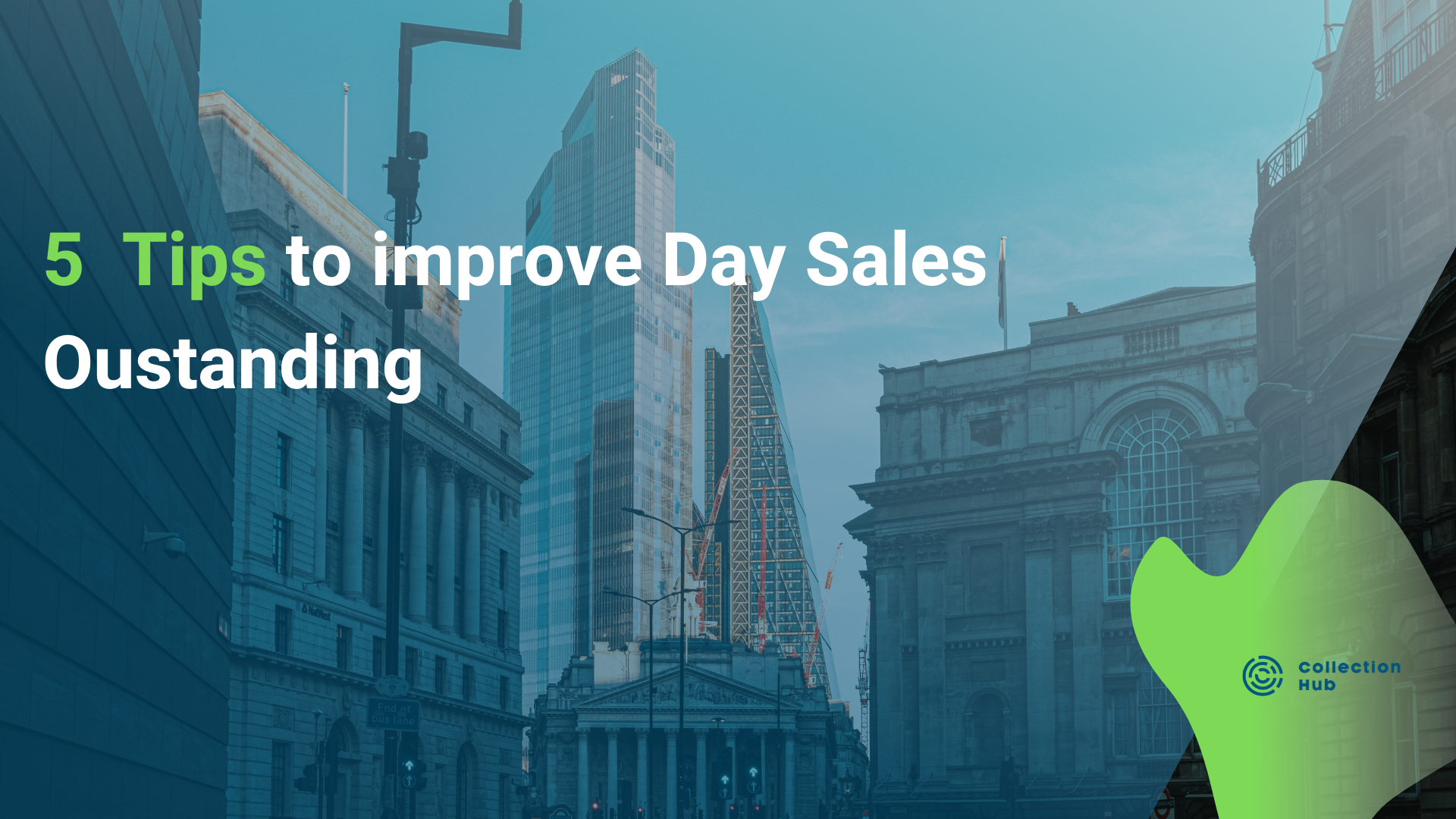 Cash flow allow companies to operate and grow. In this regard, Days Sales Outstanding (from now on, DSO) is an indicator that measures a company's health. DSO represents the number of days a firm needs to convert receivables into cash. The sooner the company gets money, the healthier its cash flow and financial position are considered. Thus improving this indicator is a crucial factor in optimizing the company's finances.
A strong cash flow, achieved through a good DSO, helps the management to undertake more investments and secures the firm's operativity. Let's see some strategies to reduce the gap between establishing a receivable and its conversion into cash.
1. Detailed analysis about DSO status
The first step to achieving a good DSO is gathering as much data as possible about the current company's DSO status. The resulting data will be used as the basis to perform a benchmarking analysis comparing the company's DSO to that of peers and competitors. Industry surveys or private benchmarking studies are helpful to perform an accurate analysis. Once the assessment is ready, the company's management will have a better oversight to adjust the company's strategies and implement new tools for DSO reduction.
Still, the efforts to reduce DSO must be sustainable and suitable for the business. For instance, A company may be able to reduce DSO by 10 days by tightening customer credit approvals, but that will not be worth it if this effort will result in worse customer acquisition and retention
---
2. Reconsidering Payment Terms
Every industry has its practices and customs regarding payment terms and these set consumer's expectations. That said, in some cases, it is helpful to update the sector's procedures in order to have more company-friendly terms and reduce DSO.
There are different methods to incentive early payments:
Milestones: An agreement on milestones allows the business to have periodical inflows from the customers instead of a unique payment several weeks/months (if not years) after a receivable is established. For instance, the firm can agree with the customer on weekly payments or compensations each time the work progresses by 1/4.
Discounts: Offering discounts for early payments is another way to incentivize customers to anticipate the compensations. A common practice to provide a 2% discount for payments made within 10 days. The percentage may seem insignificant, but it can represent a relevant saving for the clients over the long term and persuade them to fulfill in a more timely manner.
Deposits: Requiring a deposit is rather common, especially in industries where products and services need lengthy work. This practice has many advantages in terms of cash flow management, although it requires some extra attention. For example, if the service is not provided, the amount collected is owed to the client and has to be refunded. For this reason, it is crucial to have an accurate track of the funds received in advance
---
3. Technology and analytics
New technologies will not only impact customers' expectations but risk management techniques accordingly. First, a vast amount of data is available and easily accessible for the banks. Faster and cheaper computing power allows banks to process those data and carry out a better credit-risk decision as well as monitoring portfolios for detecting financial crimes and predicting operational losses. Data elaboration, then, is getting more and more advanced thanks to machine learning. These models learn with every bit of new information they acquire, improving their predictive power over time. Some banks have started experimenting with machine-based collection and fraud detection processes. Finally, the internet enables companies to crowdfund ideas to improve their effectiveness in certain areas.
---
4. Improve credit risk management
DSO depends on the customer's capacity to pay. Accordingly, any attempt to reduce DSO can not avoid addressing credit risk. The firm's polity must define the assessment of the client's creditworthiness and use these criteria to refuse those customers that represent an unacceptable risk of slow payment or non-payment.
The company's sales function must also be involved in the credit risk management. Companies need to define specific bonuses and penalties to ensure that salespeople and sales managers adhere to the company's credit polity.
In some cases, companies can also utilize tools such as credit insurance to mitigate these risks without losing an attractive customer.
---
5. Efficient billing process
Invoicing is essential for having efficient cash flow management and thus a good DSO. First, a quick invoice process accelerates the entire payment process. Second, errors in the invoice delay the collection and impact the company's cash flow. Employing automated invoicing solutions can help to achieve a fast and accurate process.
Another important factor is the clarity of the invoices. If the bills do not clearly display payment terms, due dates, and addresses, the company should consider adopting a new template that puts this information more straightforwardly.
---
6. Good Action Plan for Debt Collection
A high-efficient cash flow and the precautions adopted in credit risk management notwithstanding, there always be a percentage of unpaid invoices to deal with. Hence, a business needs a good action plan for debt collection to improve DSO.
Late payments happen, and they are not always intentional. Accordingly, the first reminder must be polite and accommodating. Simple follow-ups are often enough to prompt the fulfillment and maintain good interaction with the customer. If this first approach does not lead to a positive outcome, the communication can gradually escalate towards more impactful instruments (legal actions are the last shore). Different Fintech Startups provide automated accounts management tools that help businesses recover debt on autopilot. During the escalating automated requests, the software implemented by these startups can also negotiate, offer discounts, manage disputes and counteroffers, set up custom payment plans.
Bringing together Cash Management, Invoice Reconciliation, ARM and bill collection, CollectionHub is ideal for large organizations with complex AR processes looking for innovating and improving O2C across several functional areas. CollectionHub provides a single source of truth (SSOT) across departments, countries, and roles. This fintech startup is able to solve any problem related to late payments, factoring, and international litigation.
In addition to providing a comprehensive solution for ARM, this fintech startup owns the largest network of debt buyers, collectors, and law firms covering over 134 countries. If your organization issues over 50,000 invoices monthly, you can schedule a product demonstration here.
---